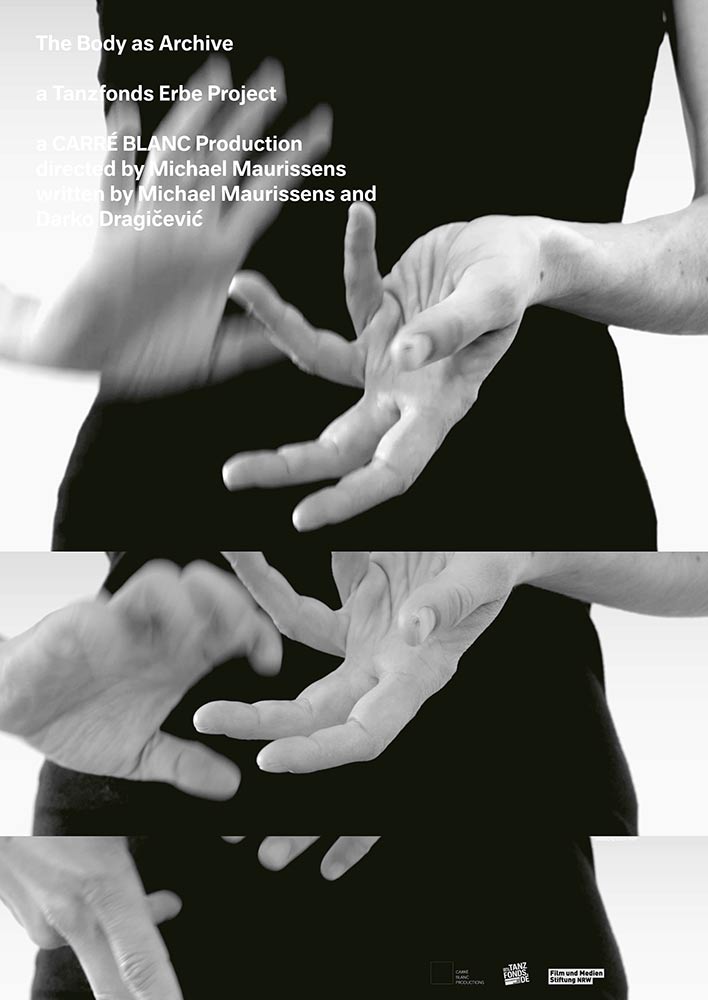 THE BODY AS ARCHIVE
Documentary film | DE/BE/NL/GB 2016 | 49′ | English OV with French, German, Turkish, Japanese, Greek subtitles
The body as archive is a documentary film based on research that considers ways in which the dancer's body can be regarded as archive.
Dancers create, accumulate and carry knowledge – where is it stored and what do they explore through their practice? Is it possible to locate kinetic knowledge and understand its connection between subjective vision and objective realisation?
The body as archive explores the role of dancer in the preservation of collective knowledge, it's transmission and it's accessibility.
Director Michael Maurissens
Written by Michael Maurissens and Darko Dragičević
First Assistant Director Darko Dragičević
Director of Photography/Editor Alexander Basile
Music composed by Gregor Schwellenbach
Produced by CÁRRE BLANC PRODUCTIONS
Funded by TANZFONDS ERBE – Kulturstiftung des Bundes, Film- und Medienstiftung NRW
 1st Assistant Camera Janosch Pugnaghi
Gaffer/Sound Christian Schuermann
Boom operator Simon den Hartog
Grading Jan-Peter Horns
Offline Editor Jens Vetter
Catering Moritz Erian
Translation Karoline Strys
Advisor Dr. Scott deLahunta
With the participation of  Prof. Dr. Maaike Bleeker, Allison Brown, Prof. Patrick Haggard, Fabrice Mazliah, Jone San Martin, Michael Schumacher, Prof. Dr. Gerald Siegmund, Prof. Wolf Singer, Dr.-Ing. Michael Steinbusch, Thomas Thorausch, ldiko Toth, Jonas Dometshauser
Students
Hochschule für Musik und Darstellende Kunst Frankfurt Main
Nami Miwa
Valeria Liptschansky
Le Kong Sandra
Klara Oehler
Institute for Cognitive Neuroscience, UCL and
Institute of Philosophy, School of Advanced Study
University of London
Maria Gallagher
Elisa Brann
Institute for Applied Theatre Studies Justus- Liebig-Universität Gieβen
Onur Agbaba
P.A.R.T.S. Brussels
Ellada Damianou
Fannie Falk
Theodore Livesey
Karolina Loimaala
Akiyoshi Nita
Emeric Rabot
Supported by
Deutsches Tanzarchiv Köln
Hochschule für Musik und Darstellende Kunst Frankfurt am Main
Institute for Cognitive Neuroscience
UCL
Institute of Philosophy, School of Advanced Study
University of London
Institut für Angewandte Theaterwissenschaft/Justus-Liebig
Universität Gieβen
Max-Planck-Institut fuer Hirnforschung, Frankfurt am Main
P.A.R.T.S. Brussels
The Forsythe Company
Technische Universität, Dresden
Zentrum fuer Austausch und Innovation Köln
Awards & Screenings
Awards
Best documentary Cinalfama Lisbon International Film Awards
Official selections
Cinalfama Lisbon International Film Awards
San Fransisco Dance Film festival
InScience Festival Nijmegen
Light Moves Festival Limerick
Krakow Film Festival
CINEDANS Amsterdam
Screenings
Ovidius University of Constanta, Romania
Athens Video Dance Project
SinemaDans Goethe Institut Ankara
Theater Freiburg
InShadow Festival Lisbon
ZAIK/Orangerie – Theater im Volksgarten Cologne
Film-Art-Dance Festival Cary Theatre North Carolina
Hollins University/Künstlerhaus Mousonturm Frankfurt
Korzo Theater The Hague
tanzhaus nrw Duesseldorf
Goethe Institut Villa Kamogawa Kyoto
Folkwang Universitaet der Künste Essen
COFESTIVAL Ljubljana
Deutsches Tanzarchiv Köln